The Mill
Heathman Street
Nether Wallop
STOCKBRIDGE
Hampshire SO20 8EW
T: 01264 781988
F: 01264 782590
info@fishingbreaks.co.uk
www.fishingbreaks.co.uk

Chalk stream Fishing
River Lambourn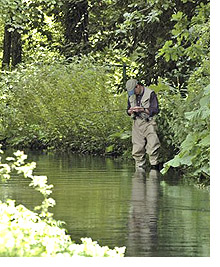 The River Lambourn rises in the Berkshire Downs, just above the famous racing village from which it takes its name. It then flows for some 16 miles more or less directly southeast until it joins the River Kennet at Newbury.
In 1967 the BBC cricket commentator Howard Marshall, published Reflections on a River. He closes the final chapter with the words, 'Simple things – so many of them – make up the angler's true delight. And all of them may be found on the banks of the little River Lambourn.' I can only urge you to go and discover them for yourself.
DONNINGTON GROVE

Often overlooked the Lambourn is truly very special; it is one of the few chalkstreams that has absolutely no abstraction and has the coldest water of any in southern England.

Gin-clear and fast flowing this Berkshire gem is the perfect stream in which wild brown trout and grayling thrive. The latter are famously hard to catch, which led legendary river keeper and creator of the Pheasant Tail Nymph, Frank Sawyer to turn down many an invite on the grounds that they were "too darned hard to catch".

This is an all wading beat that is ideal for one Rod or two friends fishing together. A 25% discount (except May 20-June 14) is available to hotel guests.

We have stocked the hotel lake with a few rainbows which you are welcome to fish for on a catch-and-release basis at no extra charge.

No. RODS
1-2

Hotel

4m

On site

On site

"Relatively secluded and felt 'wild'." "Peaceful wade." "I could see the trout and the river is beautiful, with nice clear water."
| | | |
| --- | --- | --- |
| April 1-May 15 | £85/one | £150/two |
| May 16-June 6 | £135/one | £200/two |
| June 7-September 30 | £85/one | £150/two |
| October 1-March 14 (grayling) | £45/one | £80/two |
For further details, please complete our enquiry form or e-mail info@fishingbreaks.co.uk