About Us
Fishing Breaks is the company I founded over thirty years ago because I had a passion for all things fly fishing, but in particular the chalkstreams of England.
Bought up in Hampshire I was lucky enough to have great (and famous!) fly fishing on my doorstep, but as I grew up, got a job and moved away I realised what a closed world the chalkstreams were unless you were in the 'know'. So, with little more than a germ of an idea, a telephone and the book of my fishing contacts, I set out to change that.
Back then taking fishing for the day, as people liked to term it, was a haphazard affair which involved tracking down obscure adverts in magazines or following up contacts gleaned in the local pub. If you needed a gillie you would soon discover that it was job description for someone filling the time between waking up and the pubs opening. And heaven forbid that anyone might have a professional casting qualification.
My mission was back then, and remains today, to make the best beats accessible and bring a new level of professionalism to the whole business, but never losing sight of the fact that the chalkstreams are some of the most precious and unique trout fishing rivers in the world. By building relationships with the river owners, I gained their trust to sell day rods on their behalf, the income helping to make the rivers pay their way. For anglers I knew that buying a day of fishing should be pleasure rather than a chore, with the prospect of that day something to look forward to. I introduced the term Fishing Guide to the chalkstream lexicon and demanded the highest standards of myself when I was a full time Guide and now from the team that make up Fishing Breaks.
Fishing Breaks has come a long way in three decades, but it is still a very personal business. I have fished every yard of every river we have. I talk daily to our river owners and keepers from our office here at Nether Wallop Mill, in the heart of the Test valley, where the river truly runs beneath the building and overlooks the trout lake which is home to our fly fishing school.
But, however good the rivers might be it takes more than just great fishing to make a great company and I am indebted to a wonderful team who all make it happen both here in the office and out on the river.

Diane Bassett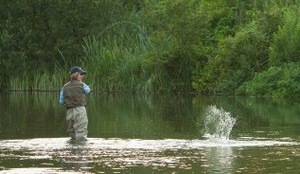 Raised in Yorkshire, Diane had never knowingly clapped eyes on a chalkstream until she moved south with her husband and young family, living close to the River Itchen. Even then fly fishing remained something of a mystery until she got to know Fishing Breaks through the company that did, and still does, provide all our catering for river parties.
Swapping food for fish Diane has become the lynchpin of the firm; she will nearly always be your first point of contact be it by phone or email. Questions, bookings, special requests, information ..... well, just about everything that happens at Fishing Breaks will pass across her desk in a season.
In the 15 years since Diane arrived, she has become an accomplished fly fisher, plenty capable of out-fishing us Guides when the mood takes her. When the hatch is on don't expect her to answer the phone a minute after 5pm as she'll be out on the river 'checking out' as she calls it, a spare Fishing Breaks beat or on one of the Salisbury & District Fly Fishing Association waters of which she is a member.
Kris Kent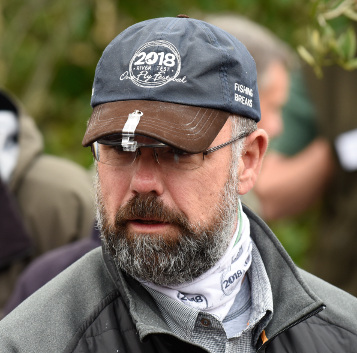 Kris is the newest recruit to Fishing Breaks, though it must be said he hasn't moved far to join us: he previously worked for Orvis in Stockbridge and actually lives in Nether Wallop.
His fishing education began on the muddy ponds of Berkshire and chasing dace on the Kennet & Avon Canal having been born and raised in Reading. His father was always his fishing mentor. A real old countryman who instilled in Kris a love for the countryside and all things fishing though in those formative years the closest he came to a chalkstream was plucking bullheads from the nearby River Pang.
Like many of us fishing fell by the wayside for Kris in his 20's but in his 30's when he next picked up a rod it was fly one when he lived and worked in Yorkshire, honing his new found skills on the Aire, Wharfe and their like. When work returned him south the chalkstreams where a natural progression for a man who likes nothing better than fishing a dry fly. In time his hobby has become his profession as Kris, in addition to his daily office duties, is a qualified instructor and experienced guide.
Simon Fields - River Keeper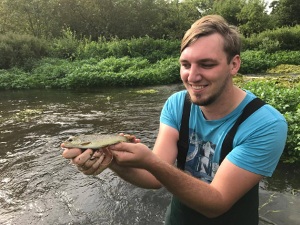 Simon was brought up in a small village called Westhoughton near Manchester, always having a keen interest in fishing – his first catch were some crucian carp from the local farm pond. After Secondary School he attended Myerscough College to start pursuing his passion with a National Diploma in fisheries management. This lead to Sparsholt Collage in 2010 where he graduated with a BSc in aquaculture and fisheries management. Simon was lucky enough to have already been involved with Fishing Breaks on a work placement as part of his studies, so worked with us for a season before spending 3 years as a fisheries manager at Holbury Lakes on the headwaters of the River Dun. We were delighted when he was able to re-join Fishing Breaks in 2017. He lives in Allbrook, on the outskirts of Southampton, with his beautiful wife Becky who is a secondary school English teacher.
Fishing Guides
Click here to read more about the team of Fishing Guides.
I hope you enjoying browsing the web site and have time to come fishing with us sometime soon.
Best wishes,





Founder & Managing Director