About Us
Fishing Breaks is the company I founded over thirty years ago because I had a passion for all things fly fishing, but in particular the chalkstreams of England.
Bought up in Hampshire I was lucky enough to have great (and famous!) fly fishing on my doorstep, but as I grew up, got a job and moved away I realised what a closed world the chalkstreams were unless you were in the 'know'. So, with little more than a germ of an idea, a telephone and the book of my fishing contacts, I set out to change that.
Back then taking fishing for the day, as people liked to term it, was a haphazard affair which involved tracking down obscure adverts in magazines or following up contacts gleaned in the local pub. If you needed a gillie you would soon discover that it was job description for someone filling the time between waking up and the pubs opening. And heaven forbid that anyone might have a professional casting qualification.
My mission was back then, and remains today, to make the best beats accessible and bring a new level of professionalism to the whole business, but never losing sight of the fact that the chalkstreams are some of the most precious and unique trout fishing rivers in the world. By building relationships with the river owners, I gained their trust to sell day rods on their behalf, the income helping to make the rivers pay their way. For anglers I knew that buying a day of fishing should be pleasure rather than a chore, with the prospect of that day something to look forward to. I introduced the term Fishing Guide to the chalkstream lexicon and demanded the highest standards of myself when I was a full time Guide and now from the team that make up Fishing Breaks.
Fishing Breaks has come a long way in three decades, but it is still a very personal business. I have fished every yard of every river we have. I talk daily to our river owners and keepers from our office here at Nether Wallop Mill, in the heart of the Test valley, where the river truly runs beneath the building and overlooks the trout lake which is home to our fly fishing school.
But, however good the rivers might be it takes more than just great fishing to make a great company and I am indebted to a wonderful team who all make it happen both here in the office and out on the river.

Diane Bassett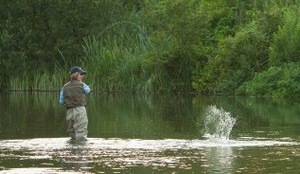 Raised in Yorkshire, Diane had never knowingly clapped eyes on a chalkstream until she moved south with her husband and young family, living close to the River Itchen. Even then fly fishing remained something of a mystery until she got to know Fishing Breaks through the company that did, and still does, provide all our catering for river parties.
Swapping food for fish Diane has become the lynchpin of the firm; she will nearly always be your first point of contact be it by phone or email. Questions, bookings, special requests, information ..... well, just about everything that happens at Fishing Breaks will pass across her desk in a season.
In the 15 years since Diane arrived, she has become an accomplished fly fisher, plenty capable of out-fishing us Guides when the mood takes her. When the hatch is on don't expect her to answer the phone a minute after 5pm as she'll be out on the river 'checking out' as she calls it, a spare Fishing Breaks beat or on one of the Salisbury & District Fly Fishing Association waters of which she is a member.
Sarah Lindsay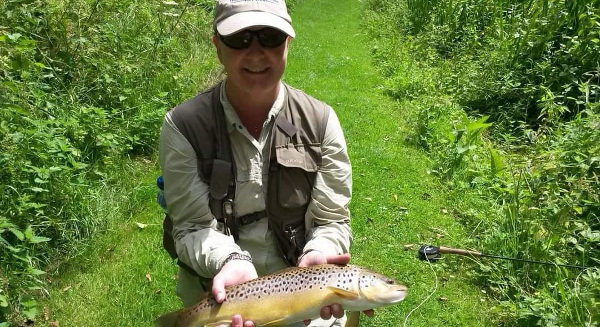 Sarah is the new arrival to Fishing Breaks, based in the office here at Nether Wallop Mill coordinating the fishing diaries and daily taking your calls for bookings and questions. If you speak to Sarah, you'll pick up a Scottish accent first acquired in her teenage years when her Army parents moved the family to Aberdeen.
As with many of her generation Sarah joined in on the oil boom of the 1990's, working in the industry until recently, when the siren call of the chalkstreams bought her and her husband Ewan south to Hampshire. A keen fly fisher for over a decade, Sarah cut her teeth on Scottish stillwaters, but it was really the chalkstreams that has ignited her passion for all things fly, setting a high benchmark for things to come with her first ever Hampshire trout, a 4lb fish (pictured) from the River Dun. Holidays for Sarah and Euan are all about fishing; Key West and the Florida coastline are the perfect combination of winter sun and saltwater adventure.
But ask Sarah for her most enduring fishing memory so far it will be her first sight-caught trout on a nymph. She truly has the bug!
Simon Fields - Head River Keeper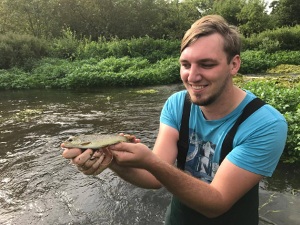 Simon was bought up in a small village called Westhoughton near Manchester, always having a keen interest in fishing – his first fish were crucian carp from the local farm pond. After Secondary School he attended Myerscough College to start pursuing his passion with a National Diploma in Fisheries Management.
This led to a place Sparsholt College in Hampshire from where he graduated with a BSc in Aquaculture and Fisheries Management in 2013. Simon came to Fishing Breaks on work placement as part of his studies, filling in for a season after graduation before spending three years as the Fishery Manager at Holbury Lakes on the headwaters of the River Dun.
We were delighted when he was able to re-join Fishing Breaks in 2017 full time. He lives in Allbrook a stone's throw from Breach Farm on the River Itchen with his wife Becky who is a secondary school English teacher and their young daughter Florence.
Charley Portsmouth - River Keeper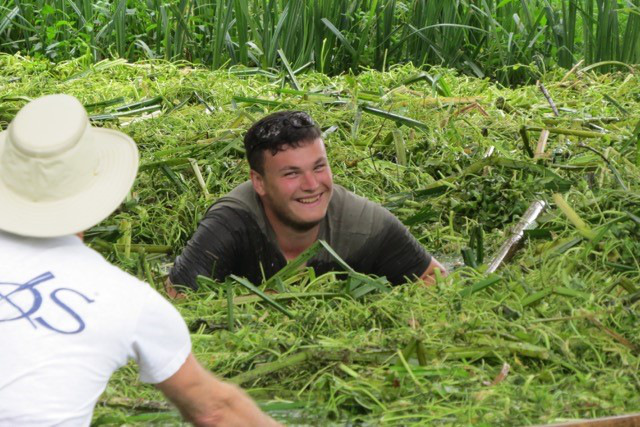 A mad keen carp angler, Charley was born with a rod and line in his hands. He was brought up just down the road from the Fishing Breaks offices and now lives with his family on the edge of the New Forest. He is a Saints season ticket supporter but when he's not watching the football, he is usually near water for work or pleasure. Be it a river or lake Charley is a very capable angler and a master of his sixth sense, watercraft.
His first job was running a carp fishery in France, but he returned to the UK to study the industry-renowned Level 3 Diploma in Fisheries Management at Sparsholt College. Today, you'll find him out on the rivers, working closely with Si Fields to maintain some of the finest chalkstreams. If you are fortunate to bump into him on the riverbank, be sure to pick his brains on the best approach. He is as friendly as they come, and always willing to extend a helping hand.

Jamie Pankhurst – Fishery diary manager, guide & river keeper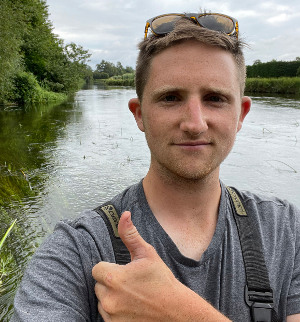 Jamie is a Devonian, born and bred. Brought up in Thorverton, a rural village just north of Exeter, he cut his teeth outwitting wild trout and grayling on the mighty River Exe. At 12 years old, he was catching sea bass and flounder on the sand banks of the Exe estuary, chasing salmon and sea trout through the bournes of Exmoor, and rock pooling along the coasts of Devon and Cornwall.
Taking after his father, he studied a Level 3 Diploma in Engineering before realising his obsession with water and the environment and studying a BSc Fisheries and Aquaculture at Sparsholt College.
Jamie is a keen angler and passionate wildlife photographer with fond interests in freshwater ecology, conservation, restoration and rewilding. His role with Fishing Breaks is a flexible one. One day you'll find him taking bookings and arranging your fishing in the Fishing Breaks office with Diane and Sarah, the next he'll be chest deep in the rivers with Si and Charley.
Fishing Guides
Click here to read more about the team of Fishing Guides.
I hope you enjoy browsing the web site and have time to come fishing with us sometime soon.
Best wishes,





Founder & Managing Director
LEADER funded grant
Name of the project is: River Restoration Machinery
Source of funding: European Agricultural Fund for Rural Development
Short description: This project provided a grant to support the purchase two new 4WD vehicles to enable greater productivity and efficiency in the Fishing Breaks business.