Overseas Visitors
Covid-19 update
We are taking bookings for 2021 with a pledge to ensure trips will be rearranged on a like-for-like basis with no penalties or extra fees should travel plans be disrupted due to a Covid-19 related issue
With over twenty five years in the business I am sure it is fair to say we have established an unrivalled reputation for the finest chalkstream trips to the private rivers in southern England, with beats that include that most famous of all them all, Mottisfont Abbey on the River Test where F W Halford invented modern day dry fly fishing back in the 1800's.

This brief guide will give you an outline but to discuss your requirements in more detail call Diane +44 1264 781988,email Simon Cooper or contact our agent in your country if we have one.
Fishing in England
Unlike some countries where rivers have public access usually for the cost of a licence, all rivers in England are privately owned with the fishing controlled by the landowner. Access is usually by payment to the landowner or via agents such as Fishing Breaks who represent the owners.
Who can fish and when?
The trout season runs from April to October. Anyone may fish for a single day or more. Fishing is available for any number from one to small groups.
Packages
Guided service - This is our most popular option where you may arrive the night before or on the morning of fishing. A typical trip to the River Test reads like this:
Day 1 Check-in at a choice of Stockbridge hotels or inns
Day 2 9am Guide pick up from hotel or train station, if arriving that morning. Trains from London take 55-75 minutes
Full day on the River Test with all tackle and flies provided as required
Lunch at local pub
6pm Guide drop off at hotel or train station
The journey time from London is 60 minutes by train and 90 minutes by car, as is London Heathrow airport.
The chalkstream experience – this fully personalised trip lets you explore and fish the wonderful chalkstream region exactly how you wish.
Transfers to and from London or airport
Hotel accommodation
Three to five day guided trips on the River Test and noted chalkstreams
Opportunity to visit famous fly fishing landmarks such as Izaak 'The Compleat Angler' Walton's tomb, F W Halford's Oakley Hut and Charles Cotton's Fishing Temple in the company of Simon Cooper, author of the best selling Life of a Chalkstream
All tackle, flies, waders and equipment provided as required
Personal trip adviser
Cruise ship excursions – if your ship is berthing at Southampton you are just a few miles from some of the best trout fishing in the world. Click here for more details.
For a tailor-made package please email your preferred dates and party members or talk direct with our Overseas Agents
Fish like a local – if you are able to make your own travel arrangements and have your own outfit this may be for you.
Receive comprehensive maps, instructions and advice
Go fishing!
Where are the rivers?
The chalkstream region is just 75 miles to the south west of London, perfect for a single day or short trip. By car the journey is 90 minutes or the train from central London one hour. Our Guide service includes train station transfers.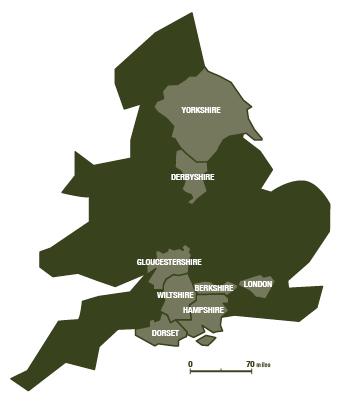 Fishing Guides
Chalkstream fishing is not difficult but it is probably different to anything you may have experienced elsewhere. A Fishing Guide is a useful addition for any fishing trip providing advice, tackle, flies, local transportation and government licence.
Government fishing licence
We will show you how to buy the visitors version that may be purchased on-line in advance of your trip. The cost is only a few UK pounds.
Clothing and tackle
No specialist clothing is required as you are unlikely to experience any extremes of weather. Dress for a spring or summer day outside, with a hat, sunglasses, rain jacket as a backup and rugged or waterproof footwear. If the fishing requires waders we will tell you and you should bring your own. Tackle is typically a 3-5 wt outfit; bring you own or the Fishing Guide will provide everything you require. For more details click Planning your trip
The Weather
Average temperature
| | | | |
| --- | --- | --- | --- |
| April 10C/50F | May 14C/57F | June 15C/59F | July 17C/63F |
| August 16C/61F | September 14C/57F | October 10C/50F | |
Rainfall
Generally there is rain (over 0.25mm) one day in three
Accommodation
There are a great variety of hotels, inns and pubs close to the rivers. We do not make room reservations but we will help you make your choice. See the list of recommended places to stay
Getting around
The chalkstream region is 65 miles south west of central London. There are excellent motorway connections and the train is only 1 hour. The fishing area is very compact and you can usually confine your fishing to a 10 mile radius of where you are staying. A car offers the most flexibility or the Fishing Guide will provide daily transportation. Otherwise a train, taxi or walking are options.
Airports
The international airports of Heathrow (57m/92km) and Gatwick (83m/133km) are within easy reach of Stockbridge, the heart of the chalk stream region. If travelling by car, train or taxi the journey time is 1 to 2 hours.
When to book
There is no hard and fast rule. Bookings are made many months in advance or on the spur of the moment.
How to book
Call +44 (0) 1264 781988 or e-mail us with a brief description of your travel plans and fishing requirements. We accept all major credit cards. Alternatively contact our Overseas Agent in your country.
More information?
Click on this link Planning your trip