Limestone rivers of Derbyshire
Fishing Breaks offers fly fishing at the Charles Cotton's historic Fishing House and other beats on the River Dove
Our rivers | Places to stay | Fishing advice and flies | Maps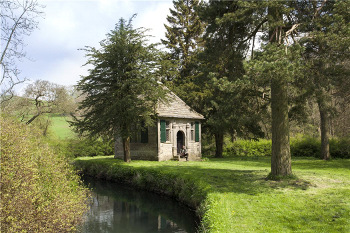 The rivers of the Derbyshire Peak District are the Wye, the Dove, the Lathkill and the Derwent, plus numerous smaller streams and brooks. The rivers are fed by the winter rains that fall on to the hills and peaks of Derbyshire and Staffordshire, percolating down through the limestone rocks and flowing out through the river valleys. The temperature and quality of the water is ideal for brown trout and grayling, and the clarity perfect for fly fishing.
The limestone rivers of Derbyshire have a very special place in the history of fly fishing as the first detailed writing about the sport comes in two chapters of Izaak Walton's The Compleat Angler, which were actually written by his friend Charles Cotton, and described the fishing in the Derbyshire.
Cotton (1630-1687) was far more than a fisherman; he was one of the most illustrious academics of the 17th century, famous as a poet,translator and writer. Born at Beresford Hall, Cotton learnt to fly fish on the River Dove, which flowed through the Beresford Hall Estate. Fishing of all types was his passion and in the gorge of the Dove he made a private garden 'with a delicate clear river about it, where the world is reduced to its simplest and best essentials'. It was in this garden in 1674 that he built the Fishing House.


Our rivers
| | | |
| --- | --- | --- |
| | | History and fishing combined. |
| | | |
| | | He is the man for big, wild browns. |

Your fishing guide - Andy Buckley
Born and raised on the Derbyshire/Staffordshire borders Andy Buckley's first angling memories are of watching his father cast with a split cane rod to wild trout on the River Dove. That father and son time was enough to inspire a passion that has stayed with Andy ever since.
It has taken him around the world as a guide in some of the most exciting and remote fishing destinations on the planet. But in the end he felt compelled to return home where he has made the Middle Dove very much his own where the wild trout and grayling are very much is specialty.
If you wish to pick Andy's brain, email him directly at andy@fishingbreaks.co.uk All diary and booking enquiries should be made direct to Fishing Breaks.
Fishing advice and flies
The Derbyshire rivers usually require wading of some sort. You can fish some parts of most beats from the bank but to get the best do take your waders.
In terms of an outfit, take nothing long or heavy. A 8½ft five weight is plenty big enough. Tippet at 3lb is ideal. The flies below are the personal favourites of river keeper, Stephen Moores. For more fishing advice and to buy flies click here.
April
Greenwells Glory, Olive Quill,
Cockwing Dun & Steel Blue
Size 12/14/16

May
Iron Blue Dun (size 16), Black Gnat.
Cockwing Dun. Steel Blue,
Hawthorn Fly & Black Gnat.
Size 12/14

June
Assorted Mayfly patterns (Size 10),
Cockwing Dun, Iron Blue Dun (16)
& Elk Hair Caddis
Size 12/14/16

July onwards
Elk Hair Caddis, Steel
Blue, Black Gnat &
Griffiths Gnat (18/20)
Size 12/14
Recommended outfit: 8½ ft rod, with 4-5wt floating line. Tippet to 2lb/8x

Places to stay and visit

Maps