Chalkstream Fly Fishing in Buckinghamshire
Fishing Breaks offers chalk stream fishing for brown trout and rainbow trout on the River Wye and the lake at West Wycombe Park in Buckinghamshire.
Our rivers| Fishing advice and flies | Places of interest | Map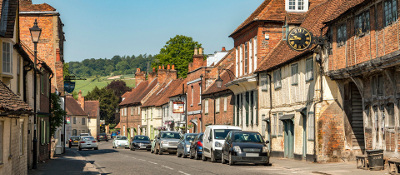 West Wycombe High Street
The River Wye is one of six chalkstreams in Buckinghamshire which are fed by the winter rain that fills the aquifers the springs emerging from beneath the Chiltern Hills to the northwest.
The river rises not far from West Wycombe, which takes its name from the river, flowing for 9 miles until it joins the River Thames at Bourne End. Being relatively close to the source ensures the water is exceptionally clear, even by chalkstream standards.
West Wycombe Park is just 29 miles as the crow flies from Hyde Park Corner in central London.

Our Rivers
| | | |
| --- | --- | --- |
| | | Two thirds of a mile of crystal-clear river and 9 acre lake in a parkland setting |
| | | |

Your fishing guide - Andy Parker
Andy Parker has been fishing ever since he was old enough to ride a bike down to the Bow Brook and River Loddon just outside Basingstoke on the Hampshire/Berkshire border.
Andy often terms himself a 'Jack of all Trades and Master of Some' due to his enjoyment of all types of fly fishing. Being a member of several angling clubs, allows Andy to embrace his passion for river fishing from wild Exmoor brown trout to the elusive Welsh sea trout.
Taking the opportunity for early retirement this year has now given Andy the chance to take to guiding and instructing full-time, or as full-time as his passion for going fishing allows!

Fishing advice and flies
The trout fishing season runs from April 1 to September 30. The fish take most sorts of nymphs, buzzers, spiders and damsel flies. Dry flies can work on the lake and on parts of the river but generally the current is too slow on the river for traditional dry fly presentation. There is no Mayfly hatch. For more fishing advice and to buy flies click here
Top Buckinghamshire Flies:
April
Pink Shrimp (12/14)
Sawyers PTN (14/16/18)
Dark Olive (14/16)
Hawthorn (12/14


May
Black Gnat (14-16)
Knotted Midge (14/16)
Gold Ribbed Hares Ear (14/16/18)
Red Buzzer (12/14)


June
Adams (14/16/18)
Goddard Emerger (14/16)
Damsel Nymph (10)
Gold Ribbed Hares Ear (14/16/18)


July
Daddy Long Legs (10/12)
Grey Klinkhammer (12/14/16)
Hares Ear Nugget (12/14)



August
CDC Shuttlecock (12/14)
Cinnamon Sedge (12/14)
Red Buzzer (12/14)
PTN Nugget (12/14)


September
Iron Blue Dun (16/18)
Elk Hair Caddis (14/16)
Sawyers PTN (14/16/18)
Swayers Killer Bug (12/14

Recommended outfit:7-9 ft rod, with 3-6wt floating line. Tippet to 4-6lb/6-4x. No wading.

Places to stay

Maps