Chalkstream Fly Fishing in Dorset
Fishing Breaks offers the widest selection of the very best chalk stream brown trout, salmon and sea trout fly and nymph fishing in the county of Dorset.
Our rivers | Your guide | Places to stay | Fishing advice and flies | Maps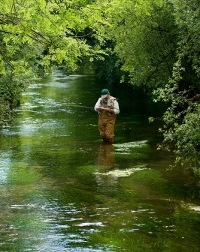 Thomas Hardy made Dorset his own where the rivers of the county interweave through the pages of his Wessex novels, with Tess of the D'Urbervilles buried on the banks of the River Frome.
The rivers Frome and Allen are remarkable success stories in the preservation of our chalkstreams. A small group of locals, some of whom went on to found the Wild Trout Trust,  were at the forefront of the drive to protect and improve these rivers more than two decades ago, so that we are now at the point where all the Wessex streams have healthy, self-sustaining wild trout populations.
Dorset is a great county to fish and visit, with its amazing Jurassic Coast, mighty Iron Age castles, chocolate box villages like Shaftesbury and the boastful Cerne Abbas Giant.

Our rivers
| | | |
| --- | --- | --- |
| | | Free rising fish fast on the take. |
| | | |
| | | |
| | | Wake. Fish. Sleep. The perfect combination in idyllic surroundings. |
| | | |
| | | |
| | | Truly the most peaceful fishing you'll ever find. |
| | | |
| | | |
| | | A true wild trout paradise and home to the new British grayling record |
| | | |
| | | The best managed fishing on the whole of the Frome. |
| | | |

Your fishing guide - Ian Pople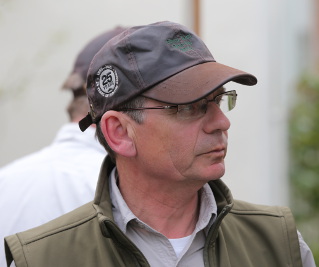 Ian was brought up and has lived much of his life on the south coast of England. He qualified as a chartered accountant in London and worked for many years in business. More latterly he had his own financial consultancy until the lure of moving water prompted early retirement from all that.
He has been fishing most of his life and in the last 15 years has concentrated almost exclusively on fly fishing. He is passionate about fly fishing and also enjoys passing on new skills and techniques to clients.
He is equally at home fishing for trout and grayling on the southern chalkstreams or fly fishing for bass at the western end of the Solent close to his home. When Ian is not fishing you will find him sailing – so he obviously has a thing about water!

You can read more about Ian on the Fishing Guides page. If you wish to pick Ian's brain, email him at ian@fishingbreaks.co.uk

Fishing advice and flies
The trout season runs from April to September with the opening weeks dominated by the grannom hatch. The mayfly hatches from late May into June, followed by glorious summer action with olives, sedges, ants and daddy long legs. To buy flies click here. .
Top Dorset flies:
April
Grannom (16)

May
French Partridge (10)

June
Black Gnat (16)
GRHE (16-18)

July
Elk Hair Caddis (14)
PTN (16-18)

August
Light Hendrikson (16-18)

September
Pale Water Spinner (16)
Recommended trout outfit: 7.5ft rod, with 3-4wt floating line. Tippet to 2lb/6x.
Waders generally advised.

Places of interest
View the full Fishing Breaks accommodation guide

Maps