River Fishing in Yorkshire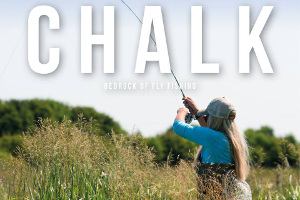 Fishing Breaks offers the widest selection of the very best chalk stream brown trout dry fly and nymph fishing in the county of East Yorkshire.
The chalk Wolds of East Yorkshire are an important source of highly prized spring-fed rivers and streams. These watercourses make up a river system that forms the most northerly chalk rivers in Europe.
There are in total 48 named chalkstreams in the Wolds ranging from some of just a mile or two in length to the River Hull at nearly twenty miles. Of these the most notable from a fly fisher's perspective is the Driffield Beck, Forston Beck and The Great Eau.

Our rivers| Fishing advice and flies | Places to stay | Map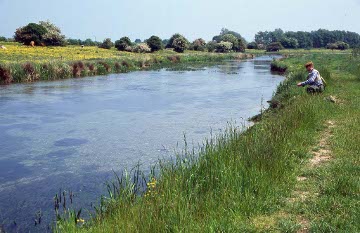 Our river
DRIFFIELD BECK
Driffield Beck is the most important of the chalkstreams in the eastern Wolds, the most northerly point on the planet where alkaline aquifer-fed rivers exist.
Driffield West Beck as it is sometimes otherwise known rises as a spring at Elmswell in the foothills of the Yorkshire Wolds. It flows for a shade over 10 miles, in every sense a perfect chalk river until it joins the River Hull to complete a further 19-mile journey to the sea.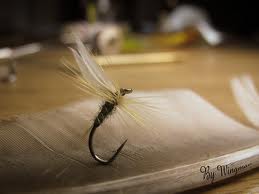 At some point in their angling lives most of the fly fishing greats made their way to Yorkshire. Articles way back to 1870 in The Field magazine sing its praises and J W Hills of 'A Summer on the Test' fame thought the Beck very like the River Itchen in Hampshire.
The river even has its own fly, the Driffield Dun (pictured left) which looks rather like a Greenwell's Glory. The seasonal hatch pattern will be very familiar to chalkstream regulars (despite the absence of a mayfly), though the locals do tend to favour smaller sizes, sometimes going as small as size 26.
MULBERRY WHIN
The river at Mulberry Whin has been in the same farming family since 1940, now passing to the fourth generation Andrew and Gemma Dixon.

The river meanders across the farmland with sharp, deep bends interspersed with shallow gravel sections with ranunculus and starwort weed and the beat is double bank along its entire length of over a mile.

The fish are a variety of wild brown trout, supplemented by Yorkshire-reared brown trout and grayling that run over 3lb. It is bank fishing, with easy terrain, well-maintained banks and an excellent cabin. Watch the 0:39 second Directors Cut of CHALK filmed on the Driffield Beck.

My sincere thanks to Norwegian journalist Morten Harangen for the use of his photographs. See the story of his trip on his web site
No. RODS
1-5




3m


on site


2m

"Wow, what a fishery!" "All excellent, we will definitely be back." "Beautifully kept fishery with some cracking fish."
| | |
| --- | --- |
| April 1- September 30 | £85 per Rod |
| October 1- February 28 (grayling) | £50 per Rod |
For further details, please complete our enquiry form or e-mail info@fishingbreaks.co.uk

Fishing advice and flies
In broad terms the fishing season runs from April to September. The hawthorn hatch, for which the Yorkshire streams are famous, takes place in late April/early May. It is worth noting that there is no mayfly hatch. There are no easy pickings in the second half of the season, but small flies, delicately fished are the secret weapons.
Top Yorkshire Flies:
April/May
Black Gnat (Size 16-18)
Hawthorn (12-14)
Griffiths Gnat (16-20)


June/July
Blue Winged Olive (16-20)
Kite's Imperial (14-16)
Daddy Long Legs (12)


August/September
Elk Hair Caddis (14)
Midges (16-20)
F Fly (16-18)

Bead-head nymphs, Peeping Caddis and Shrimps in a variety of sizes are the best sub-surface patterns. Weighted nymphs for grayling are essential.
Recommended outfit: 8.5ft rod, of 4-5wt, with floating line and tippet to 2lb/8x. Waders not required at Mulberry Whin but can be useful.

Places to stay

Maps
YORKSHIRE