A Day on the River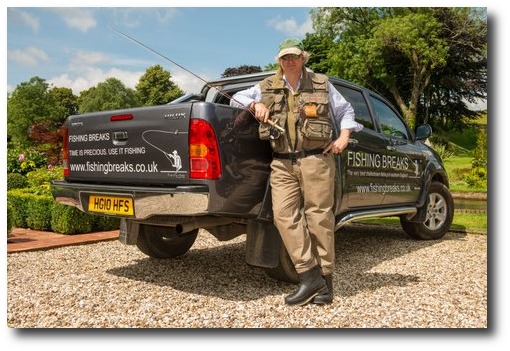 Nether Wallop Mill, Hampshire
Dear Fly Fisher,
England boasts 98% of all the chalkstreams that exist on our planet and is the birthplace of modern day fly fishing so you truly have the pick of some of the best and most famous trout rivers in the world.
If you had to sketch in your mind the place for the perfect fishing day I suspect an English chalkstream would come very close. The gin-clear water gives you a bird's eye view into the amazing natural world of the river. In the dappled shade lazy trout calmly rise to the surface to gently sip down insects. Water voles, kingfishers and otters go about their daily lives, hardly giving you a second glance. Soon you will find yourself immersed the beautiful landscape of the water meadows, miles and centuries away from the cares of everyday life.
In the (nearly) thirty years since I began my aim has always been to make sure that booking your trip is a pleasure in itself; after all fishing is an adventure so why should making it happen be a chore? We really do share your excitement for fly fishing (it is our hobby as well as our business....) so talking through the options and finding exactly what is right for you always makes us happy. If we can't be there we are glad you are!
In broad terms the trout season runs from April to October, the prime months being May to July which includes the famous Mayfly hatch when the fish go on a feeding frenzy for huge insects that hatch over the water. This takes place from mid-May to mid-June, sometimes confusingly called Duffers Fortnight.
English fly fishers are not famed for an early start, preferring to arrive at the river around 9am to have a leisurely coffee whilst tackling up ready to begin fishing around 10am once the day has warmed up, the insects start hatching and the fish start feeding. The end of the day depends on the time of year; early and late season around 6pm whereas in the height of the summer many will stay until darkness falls.
For a newcomer to the chalkstreams the terminology can be a little confusing. Rivers are divided into private 'beats', that being the section you fish for the day; 'rods' is the term for you, so when it says £75/rod that means £75/person. Beats vary in length, tranquillity, difficulty and the numbers of rods that may fish on any given day.
When and what you book is very much up to you; we are infinitely flexible from a single day for one person all the way through to trips for a succession of days and for groups. You need not confine yourself to a single beat or river. Over a series of days it is perfectly possible to mix 'n match as the chalkstream region is surprisingly compact.
Experienced chalkstream anglers who know what to expect will be able to fish any of our rivers without further assistance from us once the date is booked. However, if you or one of your group is new to the chalkstreams I'd highly recommend hiring a Fishing Guide for the day. Our Guides are engaging and informative companions who also provide tackle and flies, plus transportation if you are staying locally or arriving by train. If you are starting out with fly fishing for the first time take a look at our private tuition and courses at Nether Wallop Mill.
For the logistics of the trip most people arrive by car; we will supply you with comprehensive maps and instructions to get you to the river bank. Sometimes there will be a river keeper on hand to meet, but you will always be free to arrive and depart in your own time. Some beats are within walking distance of train stations but most others will require a taxi ride. If you want to stay locally there is a huge variety of pubs, inns and hotels. We have an Accommodation Guide and recommend that you book direct.
I hope that my web site will provide you with plenty of information and ideas, but if you would like to pick my brain don't ever hesitate to call me or drop an email. I have fished all our rivers and I'd be delighted to tell you more.
Best wishes!

Simon Cooper

Fishing Breaks Founder and Managing Director

Tel: 01264 781988