Yorkshire Chalkstream

DRIFFIELD BECK
Driffield Beck is the most important of the chalkstreams in the eastern Wolds, the most northerly point on the planet where alkaline aquifer-fed rivers exist.
Driffield West Beck as it is sometimes otherwise known rises as a spring at Elmswell in the foothills of the Yorkshire Wolds. It flows for a shade over 10 miles, in every sense a perfect chalk river until it joins the River Hull to complete a further 19-mile journey to the sea.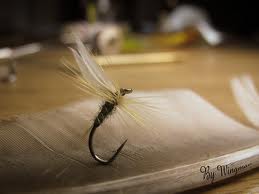 At some point in their angling lives most of the fly fishing greats made their way to Yorkshire. Articles way back to 1870 in The Field magazine sing its praises and J W Hills of 'A Summer on the Test' fame thought the Beck very like the River Itchen in Hampshire.
The river even has its own fly, the Driffield Dun (pictured left) which looks rather like a Greenwell's Glory. The seasonal hatch pattern will be very familiar to chalkstream regulars (despite the absence of a mayfly), though the locals do tend to favour smaller sizes, sometimes going as small as size 26.
MULBERRY WHIN
The river at Mulberry Whin has been in the same farming family since 1940, now passing to the fourth generation Andrew and Gemma Dixon.

The river meanders across the farmland with sharp, deep bends interspersed with shallow gravel sections with ranunculus and starwort weed and the beat is double bank along its entire length of over a mile.

The fish are a variety of wild brown trout, supplemented by Yorkshire-reared brown trout and grayling that run over 3lb. It is bank fishing, with easy terrain, well-maintained banks and an excellent cabin. Watch the 0:39 second Directors Cut of CHALK filmed on the Driffield Beck.

My sincere thanks to Norwegian journalist Morten Harangen for the use of his photographs. See the story of his trip on his web site
No. RODS
1-5




3m


on site


2m

"Wow, what a fishery!" "All excellent, we will definitely be back." "Beautifully kept fishery with some cracking fish."
| | |
| --- | --- |
| April 1- September 30 | £85 per Rod |
| October 1- February 28 (grayling) | £50 per Rod |
Maps
YORKSHIRE