Chalk stream Fishing
River Lambourn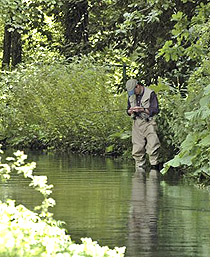 The River Lambourn rises in the Berkshire Downs, just above the famous racing village from which it takes its name. It then flows for some 16 miles more or less directly southeast until it joins the River Kennet at Newbury.
In 1967 the BBC cricket commentator Howard Marshall, published Reflections on a River. He closes the final chapter with the words, 'Simple things – so many of them – make up the angler's true delight. And all of them may be found on the banks of the little River Lambourn.' I can only urge you to go and discover them for yourself.
DONNINGTON GROVE

The River Lambourn is often overlooked in favour of its bigger county cousin the Kennet but it is truly a fabulous stream in its own right.

The water is fast and clear, ideal for sight fishing over bright gravel with plenty of undercuts along the bank from which to winkle out the cunning, larger fish. If you like wading with a light outfit to small wild fish and some bigger locally reared brown trout, plus a healthy grayling population, you will not be disappointed.

This is an all wading beat with exclusive use for one Rod or two friends fishing together. A 25% discount (except May 20-June 14) is available to hotel guests.



No. RODS
1-2

Hotel

4m

On site

On site

"Relatively secluded and felt 'wild'." "Peaceful wade." "I could see the trout and the river is beautiful, with nice clear water."
| | |
| --- | --- |
| April 1 - May 15 | £87 per Rod |
| May 16 - June 16 | £114 per Rod |
| June 17 - September 30 | £79 per Rod |
| October 1 - February 28 (grayling) | £58 per Rod |
For further details, please complete our enquiry form or e-mail info@fishingbreaks.co.uk