Guide School
For most people fly fishing is a hobby, but, for a select few, it is a profession. Unfortunately, trying to get your first job in the fishing business is the most difficult step. The guide market is a very competitive profession. It is almost impossible to get a job without a good connection or specialized training. The Fishing Breaks Guide School will provide you with the necessary experience to help you land that essential first job.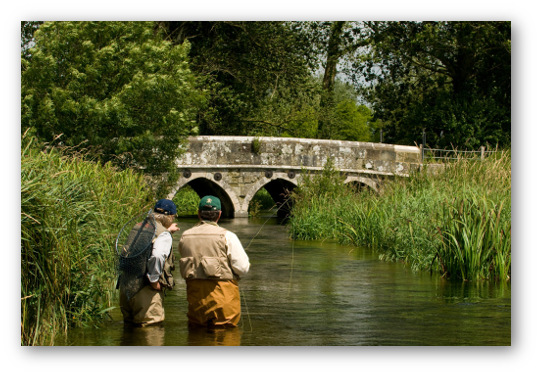 Our Guide School instructors are experienced fishing guides that have worked across the UK and around the world so you will learn everything from coping with the rawest novice to getting your client into the fish of lifetime. You enjoy fishing. We will show you how to make a living from sharing that pleasure with people who will start the day as strangers but end as the best of friends.
We limit the size of our courses to just six to ensure quality instruction and interaction with our instructors. This gives you the utmost attention from our Guide School instructors and increases your chances of becoming a successful guide.
Fishing Skills
Fishing Breaks will help perfect your fly fishing techniques. Being a good fly fisher is essential to being a good guide. You must be able to demonstrate your abilities to us to ensure you are able to instruct and explain techniques to your clients. The Guide School instructors will focus on your casting and presentation. It is not necessary that you be a fly fishing expert to come to this school. We will accept all levels of fly fisher.
From a guide point of view, chalkstreams are technically demanding environments, so this is an excellent grounding for guiding for other species on other types of water.
Guiding Skills
There are many complex aspects of guiding which can only be learned through experience. We will teach you how to interact with clients, how to instruct, what guests expect of you, and, of course, how to get them into fish. You will learn what knots to tie, how to net fish and guiding strategies both for bank and wading.
Entomology, honed down to the insects on which trout feed, is an essential guide skill which translates into both matching the hatch and explaining your thought process to the client. The bug life content of this course will open new windows on your understanding of how fish feed.
Nature
Our clients come to fish for sure, but they also come to enjoy the countryside to leave with a better understanding of nature and our rivers. During the week you will have the opportunity to participate in a river management and restoration project to give you specialist insights which you will be able to pass onto your clients
Other Critical Skills
Low impact use:  This component of the course highlights how to guide on private waters with a particular focus on minimizing impact on those who will fish after you.  This includes safely playing, photographing and releasing fish, the importance of following local regulations and an understanding of private property and guide/landowner interaction.
Safety:  Any outdoor activity has the potential for harm. We will run you through the do, don'ts and essential requirements of the profession.
Schedule
We run two schools a year: one in July and one in September. Dates are listed below.  Please contact us for availability.
Upon arrival at the lodge, everything is covered except your fishing licence. This includes room and board, train transfers and training materials. You will need to bring your own fishing equipment, waders and clothing.
You should arrive at the school on Sunday by noon. After unpacking and settling in, we will start training on Sunday afternoon. Monday to Thursday will be full days of training. On Friday you will be guiding a paying customer; an assessment will be made as to how you do. On Saturday we will conduct exit interviews during the morning, and the school will end at noon. 
A typical day begins at 8am and we are off the river by 5pm. Depending on the focus of that day, many hours will be spent on the river, to practice our fishing and guiding techniques.
Evenings are spent fishing for pleasure, tying flies, practicing knots, watching fishing videos and swapping lies over dinner that will include guest speakers, leading figures from the industry who will help you make connections.
Itinerary: (subject to change)
Day 1 (Sunday): Arrive by noon. Lunch. Casting
Day 2 (Monday): Instructing. Knots. Gear. Guiding
Day 3 (Tuesday): Entomology. Fly selection. Guiding
Day 4 (Wednesday): River management. Restoration
Day 5 (Thursday) Overview of progress. Writing your CV. Guiding
Day 6 (Friday) Assessed guiding day with client
Day 7 (Saturday) Final interview. Course ends. Goodbyes
Most of each day is spent on the river honing your guiding and fishing skills and extending your knowledge base, culminating in a full day guiding a client who you will have never met. Feedback will be sought and given. We will also help you build your CV.
Location
Guide School takes place at the Eco Lodge at Ilsington in Dorset. The Lodge is a modern building in an amazing setting amidst the River Frome water meadows. It has every modern amenity, including Wi-Fi, rod room and laundry. There are three en-suite twin bedrooms; you will be sharing a room with one other. All food and drink are provided. Dinner will be prepared for you; breakfast and lunch are self-service.  On the cook's night off, you will eat at the local pub where the cost will be shared.
Ilsington has over five miles of fishing which will be used extensively during the week. We may use other rivers in Dorset and Wiltshire if required. The nearest train station is Dorchester; we will pick you up if required. The Lodge has plenty of parking.
Dates, cost and booking
Dates: July & September 2022. Dates to be confirmed.
Cost: The cost is £2,250/person. 50% payable on booking with the balance due 60 days prior.
Booking: To book email or call 01264 781988